5 tips for increasing sales with bespoke packaging
Product packaging was initially designed for keeping your products secure and preventing damage during transit. Although this is still important, branded and bespoke packaging is becoming increasingly popular as businesses compete to stand out from the crowd. 'Packaging can make a product, and remarkable packaging can make a product remarkable', here are a few tips on how you can do just that…
1. The window to your brand
We are firm believers in making a great first impression. Branded packaging is the window to your business before the consumer reaches your product.
Bespoke packaging allows the opportunity to be creative, unique, eye-catching and most importantly – memorable.
A study conducted in 2018 by the Paper and Packaging Board and IPSOS showed that 72% of consumers agree that packaging design can influence their purchasing decision.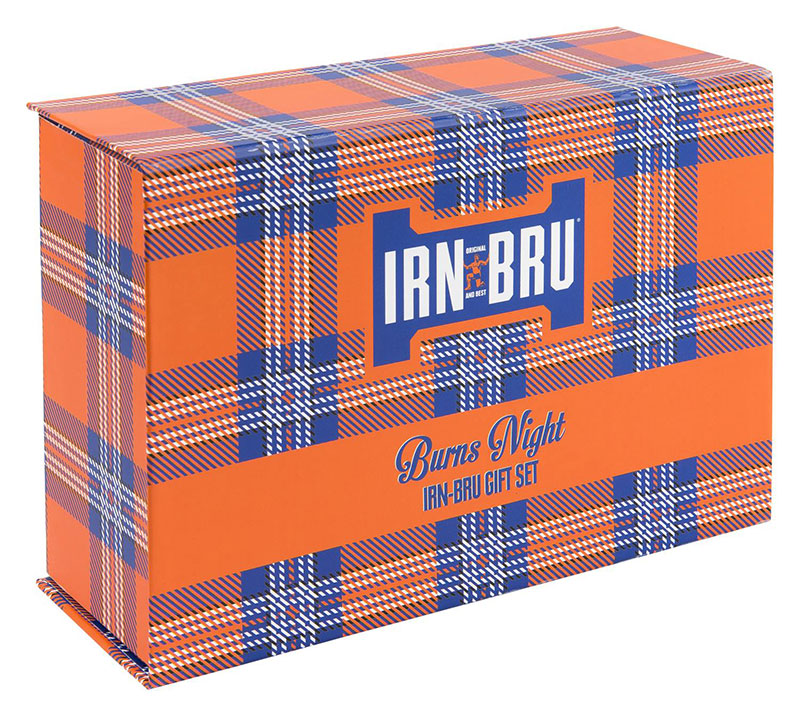 Orange and blue tartan is immediately recognised and associated with Scottish drinks brand, Irn Bru. It leaves a great, memorable first impression and serves its purpose for the celebration of their national poet to reflect their heritage.
2. Be Environmentally Friendly
The IPSOS study has also confirmed that 67% of consumers are influenced by the material the packaging is made from.
Sustainability is becoming increasingly important to businesses and consumers alike.
2019 has been named the year of environmental activism and since Sir David Attenborough's 'Our Planet', concern for the environment has never been so prominent.

Our ethics are very important when producing our packaging, so all of our box board is made using recycled fibres. We source our paper coverings from sustainable forests and all our boxes are recyclable once used.
3. Multi-purpose Packaging
Packaging doesn't have to be a 'one-time thing, then bin' scenario, many brands are now utilising the opportunity for multi-purpose packaging. It's a great way of reducing waste and challenging designers to re-think the purpose of packaging.
Not only does this save our landfills, it also acts as a fantastic reminder of your business branding resulting in repeat business, especially if it is eye-catching and original.
4. Stay on Trend
Keeping up to date with the latest trends is a great way to promote your business. Colour psychology is very powerful in packaging, there have been lots of studies to show which colours work best for consumer purchases. For example, white represents cleanliness and sophistication in a brand, too much colour reduces 'class'. Another example is blue – which works particularly well in the packaging industry – darker shades are more professional and lighter shades are calming, an older audience would have a preference towards the latter.
5. Corporate Gifting
What better way to remind customers of your services than gifting them with a branded packaged product? It's a great way to build relationships whilst subtly advertising your business. Gifting is a brilliant acknowledgement for the business your customers have given you throughout the year, a professional and well thought out gift shows your company is willing to go the extra mile.

At Tiny Box Maker, we pride ourselves in producing high quality bespoke and semi-bespoke boxes. We are enthusiastic about creating the best possible packaging with an energy that transforms your gift box into something exciting and personalised to compliment your brand.

Get in touch with a member of the team today to start the design process for your one-of-a-kind packaging solution.